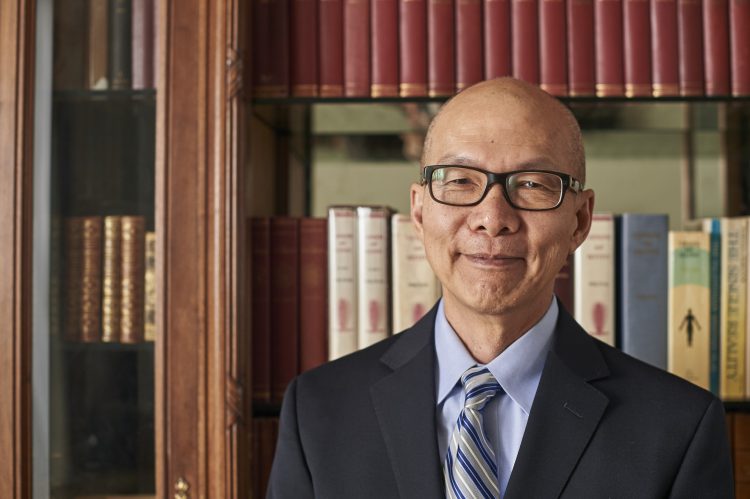 Meet Tuoc Pham
Mason For 24 Years
Grand Master Circle Donor, Past Master, and Hiram Award Recipient
In 1975, as South Vietnam fell to communism around them,
Tuoc Pham's family received a knock on the door. Pham's father had assisted United States intelligence forces earlier in the war, and America had not forgotten. An airship was waiting to evacuate them to a refugee camp. From the camp, they wrote to Nellie Turner, a former English teacher of Pham's, in hopes that she and her husband, James, would sponsor them in the United States.
The Turners said yes, and the Tuoc family moved to San Diego. They were connected with shelter, schools, and work. Pham was barely 18.
Years later, when Pham became curious about Freemasonry, he instinctively trusted his family friends again. He asked James Turner if he knew any Masons, explaining that he wanted to become one "to serve mankind." Turner revealed a Masonic ring, and smiled.
Today, Pham is a senior warden, Hiram Award recipient, past master, and former grand bible bearer.
"I joined the fraternity to pay back to this country what my family received," he says, "and to join forces with those who do good for mankind."
How did you find Masonry?
In the late 1980s, while taking a computer programming class in Los Angeles, I came across a magnificent building around the block from the training site. It was the Sheet's Scottish Rite Temple on Wilshire Boulevard. I walked inside and picked up a brochure, and read about the charitable mission of the Masons. I thought, "How noble – such unconditional giving!"

That's why my favorite way of giving has always been to maintain our temple buildings. They play an important role in inspiring and inviting men who are ready to become Masons. They wouldn't be here without the generous giving of past brethren.
How has Masonry shaped you?
Masonry has formed my character. It's improved my communication skills. Best of all, its symbols and lessons shine a light on just about any religious or philosophical or cultural discipline that I wish to understand in depth. I've recently begun facilitating monthly Masonic education classes at Tunstin Lodge No. 241, discussing the symbolism of Masonry with brothers, prospects, and the public. I'm very happy doing that.
You're a generous donor to the fraternity. What motivates your giving?
Masons take care of our members in old age, as well as our widows and orphans. We come to the relief of worthy distressed brothers. And, above all, Freemasonry is the custodian of the highest truth of mankind. Our brotherhood needs help from each of us to sustain our fraternity's structures and activities, so that it can continue to impress its wisdom and truth on society. We need to follow the leadership of our brethren from past eras, and give. It's our responsibility.
To my fellow Masons: If you haven't given to the fraternity to your maximum capacity, now is the time. We give because it's our privilege and duty. We can be proud to say that we are part of something lasting.