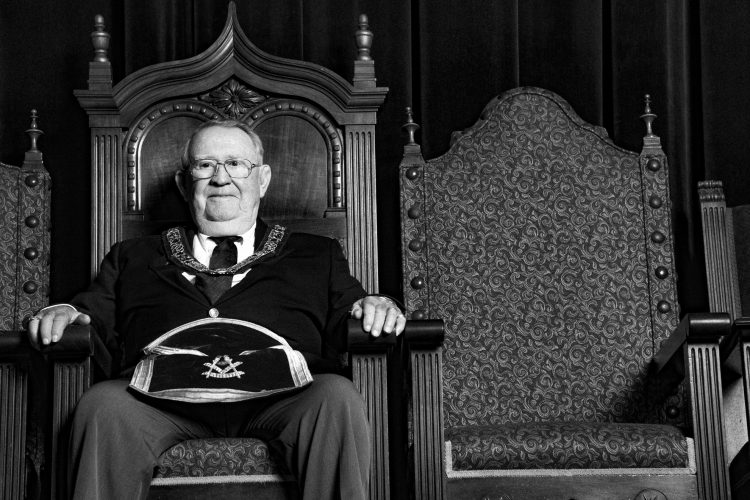 Meet Harry Lee Maynard
Mason For 57 Years
Past Grand Master and Cornerstone Society Member
By 1983, the Grand Lodge of California
– 200,000 Masons from the Golden State as well as Hawaii – was at a crossroads. Lodges in Hawaii had been chartered under California since 1852. Now, many believed they could sustain a grand lodge of their own. Harry Lee Maynard was grand master, and sensitive to the evolving nature of the fraternity. He appointed a special committee to investigate. A few years later, the Grand Lodge of Hawaii was instituted.
Maynard's path to that historic moment began in 1959, during a time of grief. During that year, he and wife Carolyn lost their five-year-old son in a burn accident. Maynard's uncle was a member of nearby San Buenaventura Lodge (now Channel Islands Lodge No. 214), and the lodge rallied to support the family. Maynard was so moved that he decided to become a Mason himself.
He's since led numerous Masonic organizations, and been a member of California's grand family for four decades. Although he's witnessed the fraternity's numbers decline since he was grand master, he sees it evolving again.
"We're coming back," he says. "Our lodges are growing. Our California Masonic Foundation is growing." He and Carolyn established a charitable trust to support the Foundation's programs for those in need, in part motivated by the memory of their son and the fraternity's compassion during their loss. That first impression has never left them.
"As Masons, we should all do what we can, and as much as we can," Maynard says.
You've been a high school teacher, a bank executive, and a leader in dozens of civic organizations. You've even been listed in Who's Who in America! Would you share a few more personal details?
I grew up in DeWitt, Iowa. I served in the Navy as an aviation cadet in the V-5 program. In college, I majored in physical education, mathematics, and physics. Carolyn and I met when I was teaching high school in Iowa, then got married and moved to Ventura, California in 1952.
What's something that readers might not know about your Masonic legacy?
Our daughter, Linda, was always active in Job's Daughters and a big supporter of my Masonic career. Her husband is Russ Charvonia, who served as the 2014-15 grand master of California. I was the fifth grand master to come out of my lodge. My son-in-law was the sixth.
The fraternity has changed in many ways since you served as grand master (1982-83). What do you think has stayed the same?
We're still active in our belief that everyone should be treated equally, in the same way we'd each like to be treated. We still believe that civility and the love of our fellow man are important things in life. I see it in my lodge every day.
As Freemasonry celebrates 300 years, what would you encourage members to focus on?
Civility. With all the problems in the world today, I think civility is instrumental to finding solutions – and Freemasonry, I hope, can contribute. Because the fraternity is active all over the world, it can promote civility all over the world.