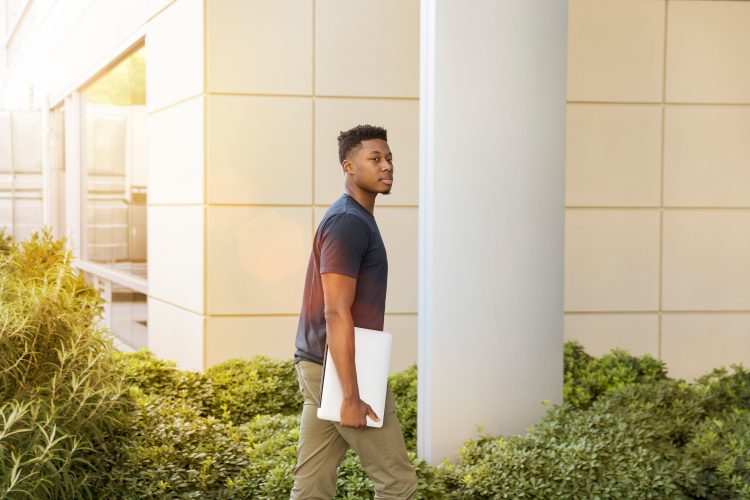 "I started to worry about surviving," wrote Jonathan Lopez in his Investment in Success application. "They knew where I was living and they were also looking for me at school."
"They" were rival gangs in his hometown in the Cuscatlán region of El Salvador, both vying for Lopez' fidelity during armed encounters. He refused twice, but knew his luck in avoiding them would soon run out. And so, he left.
Together with his younger brother, he headed north, towards the United States where his mother had been living and working. He and his brother had never left their extended family before, but they were soon walking more than 10 hours a day on dangerous roads and through the desert, riding busses in places where kidnapping was common, bribing corrupt police officers, and sometimes barely surviving without food or water. The journey took a year.
When they arrived, Lopez discovered that although he had been a senior and about to graduate high school in El Salvador, in California he was a freshman with three long years remaining before graduation. Still, he had an endless source of inspiration: His mother, Claudia. As he and his brother devoted themselves to completing high school, she worked more than 50 hours a week to provide basic necessities, such as shelter, food, and clothing for the family. They did not have a computer or Internet at home.
"My mother lacked opportunity in El Salvador and was only able to finish some high school because of her family's poverty," wrote Lopez. "I see her every day going to work so that we will have the chance to attend college. I want my family to be proud of me because my mom is working very hard to give us a better future."
All this hard work paid off in the spring of 2017, when Lopez learned that he had been accepted into San Francisco State University. And, realizing his dream of entering the psychology and nursing program began to come into focus when he learned that he had been awarded an Investment in Success Scholarship from the Masons of California. These special scholarships recognize high school seniors who demonstrate an active pursuit of education in spite of significant hardships in their lives.
Lopez is currently a freshman, but already has big plans for after college. He sees himself in a hospital, helping others. "I want to be able to help my community, and most importantly, to support my family," he says. And, he adds, "I feel honored to be asked to share my experience. It would not be what it is without the help of California Masons."