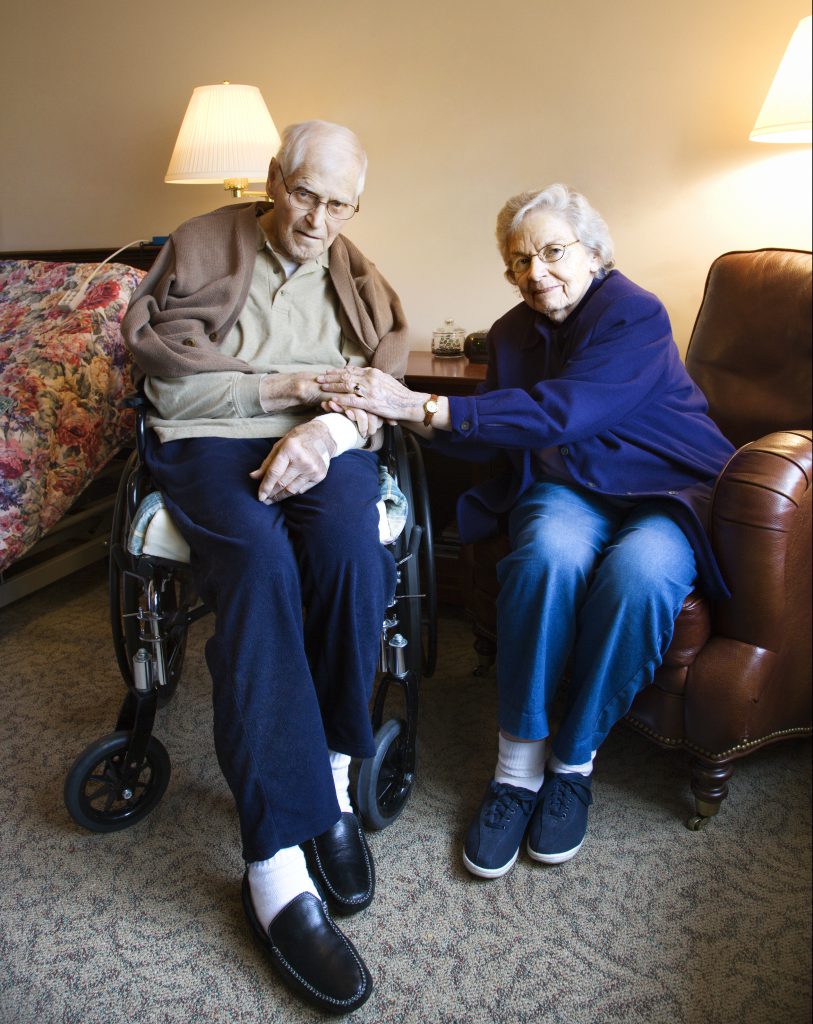 Thanks to the Masonic Homes of California, one elder brother and his wife are able to spend the rest of their lives together, surrounded by their Masonic family.
Brother Hal and his wife, Linda, are a happily
married couple in their 90s.* For more than 60 years, they lived together in their Northern California home. Then, Hal's memory began to decline. First, he struggled to place the car keys and his wallet, but later it became clear that his absentmindedness was indicating a bigger problem. He was experiencing the onset of dementia.
Around the same time, Linda fell ill. The elderly couple could no longer care for themselves. They both moved into a local Medi-Cal-approved skilled nursing facility. It was noisy. It was uncomfortable. It was not a very nice place.
Linda's strength gradually returned and soon she grew well enough to return home. Hal was not so lucky. His memory decline had led to a diagnosis of Alzheimer's disease. For the first time, they would have to live apart. Linda returned home alone to the house they had shared throughout their lives together. 
Two long years passed with Linda at home and Hal in the skilled nursing facility. Linda thought of Hal every day. It pained her to know that her husband was alone in this uncomfortable place. She was filled with despair on the days she wasn't able to find someone to drive her to visit.
Then, her health worsened too and she was hospitalized again – this time in a different skilled nursing and rehabilitation facility than her husband. When Hal's lodge brothers learned that Linda had been hospitalized, they contacted Masonic Outreach Services (MOS) to help ensure that she would be cared for properly.
Masonic Outreach Manager Liz Tarzan went to the hospital to meet Linda, then connected Linda with a case manager, Bao Her. Bow and Liz soon learned that the hospital planned to discharge Linda, even though she was too weak to safely care for herself. They formed a team with Linda, her neighbors – one of whom was a Mason, a hospital hospice worker, and a visiting nurse to ensure that Linda would receive the assistance she needed to stay out of harm's way.
The MOS team began to implement their long-term plan for the couple – bringing them both to the Masonic Home at Union City, where they could be cared for, together, in a supportive environment of Masonic family members and compassionate, skilled staff. Their first step was to transfer Hal from his local skilled nursing facility to Union City.
The day Liz arrived to meet Hal, he and Linda were waiting for her in the lobby of the building. Tears of relief streamed down Linda's face; she was overjoyed that her husband was going to a better place where she would no longer have to worry about his well-being.  
A few weeks later, it was time for Linda to follow her husband to Union City. MOS had arranged for them to share a room in the Transitions skilled nursing unit. They were reunited in the same home for the first time in more than two years.
Today, Hal and Linda are receiving the care they need from dedicated staff. They are comfortable and safe. Best of all, they are together, surrounded by a supportive community of their Masonic family.
** All names and identifying details have been changed to protect client privacy.
Help Masonic family members like Hal and Linda receive the care they need.