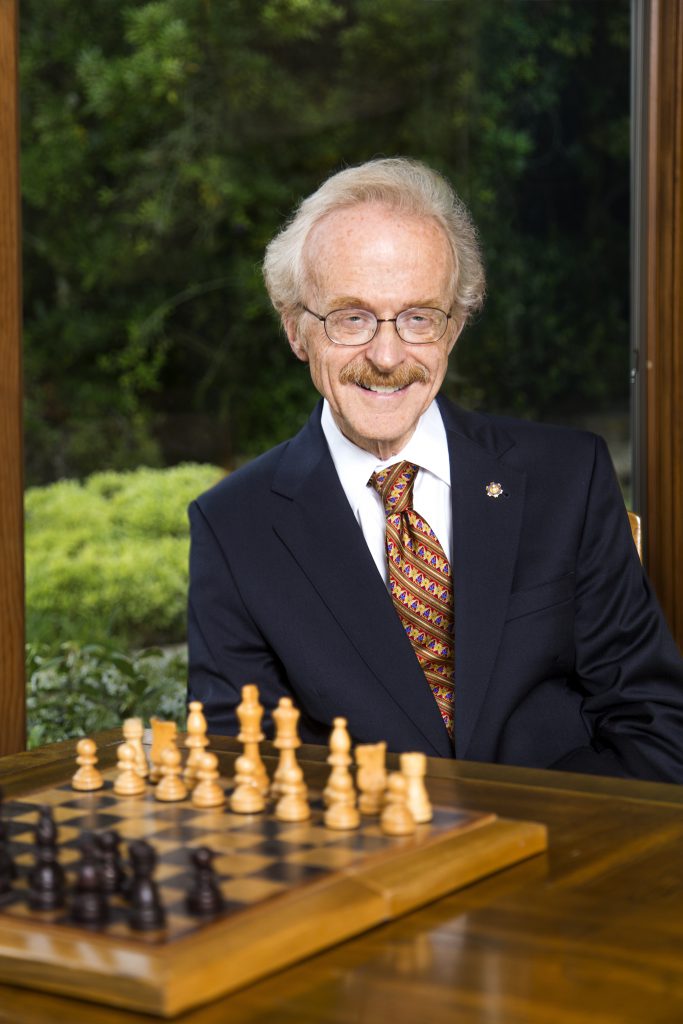 Meet R. Stephen Doan
Past grand master
Mason for 47 Years
California Masonic Foundation Board Member, "Let's Write the Future" Campaign Chairman and Pace Setter Donor, Cornerstone Society Member, Hiram Award Recipient
Steve Doan is a lawyer by trade, and a teacher by instinct
He is one of the fraternity's most thought-provoking lecturers, and a key organizer for educational events like the California Masonic Symposium.
One of his favorite themes is Masonic symbols, and how their meaning grows and evolves with each brother. "The power of a symbol is that you get from it what you need," he says.
"What I was looking for at 21 is different from what I sought as grand master and different from my connections with Masonic symbols today. But the symbols always give you an answer. That's why Freemasonry is such a powerful system."
Steve traces his Masonic heritage at least as far back as a fourth great-grandfather, a Mason in New York in the early 1800s. That legacy sunk in when he made his own son a Mason at his and his father's original lodge, Sunset Lodge No. 369 in Santa Monica. He found himself struggling to deliver the obligation and had to explain: It wasn't the ritual that was giving him trouble. It was his emotions. "I'm obligating my son, and it's the same obligation my fourth great-grandfather took," he remembers.
As a member of the Grand Master's Circle and Cornerstone Society, and as a Pace Setter donor of the "Let's Write the Future" campaign, Steve is among the fraternity's most consistent and generous donors.
"Giving makes you think about the wider world. It helps you see other people," he says. "Go out and help others, and that's how you help yourself. You'll get love by helping to extend love."
What's a favorite memory from your year as grand master (1992-93)?
There are so many. One that comes to mind is a cornerstone ceremony we did for an elementary school. Every grade selected one student to come up and make a deposit, and I spontaneously decided to interview each of them, from the first grade on. I got down on my knees in my grand master's regalia so we could talk face to face, and held the microphone up so that the crowd could hear the answers. As the saying goes, kids say the darndest things!
You're constantly researching and teaching about Masonry. What's a recent topic of interest?
Past Grand Master John Cooper and I gave a presentation last year at the Conference of Grand Masters about the liberal arts and sciences. I'd been reading about stonemasons in Scotland in the late 16th century, thinking about the community resources that went into their buildings, and the dukes and bishops who trusted them.

These masons did not have any formal education, but they had to be able to make difficult decisions, and to stand up and argue those decisions with conviction. They had to think of themselves as equal to the nobility. I think that's why the stonemasons had their leadership study the liberal arts and sciences: That was the education the medieval dukes and bishops had. That's why when we talk about the liberal arts and sciences, we talk about self-improvement. It's about being self-reliant.
After 300 years, why do you think men are still drawn to Masonry?
We talk about concepts that have been important for a long time. We're intergenerational. In a society that's incredibly divided right now, the lodge is nonsectarian, and we don't let politics in. That's a tremendous draw. Finally, Freemasonry is a chance for connection. 

A few years ago, I was traveling in Peru, visiting the Incan ruins around Cusco. Our guide pointed out a Masonic symbol, and I turned to him and asked "Are you a Mason?" He was a Fellow Craft. He had a member of his lodge pick me up and bring me to lodge. There I was, in a completely different culture, and I met somebody who was immediately a brother. That's what makes this fraternity special.